Post pandemic is a brave new world. Everyone is joining a change taskforce and forming collectives to bring down silos, and build independent applications to decrease reliance on big organizations. But to create economic diversity and system innovation we need new powerful, and modern education on nurturing platforms. 90% of new business fail. In fact, most companies won't survive past their fifth year. Innovation Centres like coworking, accelerators, incubators, makerspaces with hackathons can make all the difference for communities looking to become regenerative, and scale sustainable business.
The question is: what exactly is the difference between an accelerator, incubator, makerspace and coworking? Is there one? And which one is right for us?
We're looking at the main differences by highlighting what they offer companies and communities, as well as showcasing some of the most notable startup spaces in Canada.
It's important to note that there is no hard and fast rule when it comes to these innovation hubs — what each space offers is fluid and depends on their individual business model. For example, some spaces that don't offer investment capital might still consider themselves an accelerator, while other hubs might say they're none of the above.
With that mind, let's break it down.
Coworking
Coworking spaces are perhaps the most self-descriptive of the bunch. Companies, even if it's just one entrepreneur, can rent everything from a single desk to an entire office, with the option to rent more space as they grow. Most coworking spaces don't take equity and don't offer investment.
Coworking spaces at a glance:
A space to work with great energy and gigabit connectivity
Private meeting rooms and phone booths
Supports your company as it grows
Networking opportunities with business resources
Exciting events that bring the community together
5 notable Canadian coworking spaces:
Workspace Atlantic (Atlantic Canada)

3 locations across Nova Scotia & New Brunswick
Affordable shared co-working and virtual office membership packages that gives them the freedom to work when and where they want

Mountain CoLab (Revelstoke, BC)

Multiple spaces for small businesses, digital nomads, freelancers and startups looking to work with gigabit internet in a famous ski resort municipality.
Members have access to a network of experts, creatives, IT, lawyers, accountants, marketers and executives.

Cowork Penticton (Penticton, BC)

Landing pad for professional residents new to the area
Bridge in the gap that helps entrepreneurs find their place in the local business community

The Workaround (Toronto, Ontario)

Offers space and support to working parents who need flexibility
Strives to remove some of the barriers that come with working at home or from your local cafe

La Gare (Montréal, Québec)

Collaborative and welcoming space for entrepreneurs, designers, creators, artists, self-employed workers and small teams
Training sessions and events that allow members, local entrepreneurs and experts from various disciplines to share their knowledge
Accelerators
The truth is that accelerators and incubators are extremely similar, some would even argue that they are the same thing. In fact, they are so similar that Hockeystick Database groups accelerators and incubators together in its advanced search function.
The root of their difference lies in their names. Accelerators aim to, you guessed it, accelerate the growth of existing companies so they can mature and reach that next stage.
Learn more about how accelerators can help founders scale their companies.
They tend to operate on a set schedule, with member companies working with mentors on their businesses. Getting accepted into an accelerator usually involves a selective and competitive application process.
Accelerators at a glance:
Small seed investment from the accelerator
Access to large mentorship network and programming
Supportive environment for companies looking to scale
Private office spaces for companies
Small amount of company equity goes to the accelerator
Incubators
Incubators are looking to do just that — incubate early-stage, often disruptive, business ideas and give them the best possible conditions to grow.
Unlike accelerators, they do not operate on a set schedule. There is usually more focus on mentorship at incubators and many are industry-specific, supporting only companies that fall under a certain vertical.
Incubators also offer startups a shared working space where they can refine their ideas, work on product-market fit and network in the ecosystem.
Incubators at a glance:
Gain vital business connections at the early stage of your company
Work closely with like-minded people and businesses
Small amount of company equity usually goes to the incubator
5 notable Canadian accelerators and incubators:
Explore 81 innovations hubs available to entrepreneurs in the Toronto-Waterloo startup ecosystem.
Makerspace, Hackerspace, Fablab
In the past decade, the terms makerspace, hackerspace and fablab have appeared on the horizon. These are new names for what people have always done—come together to fix things, make new things and learn from each other.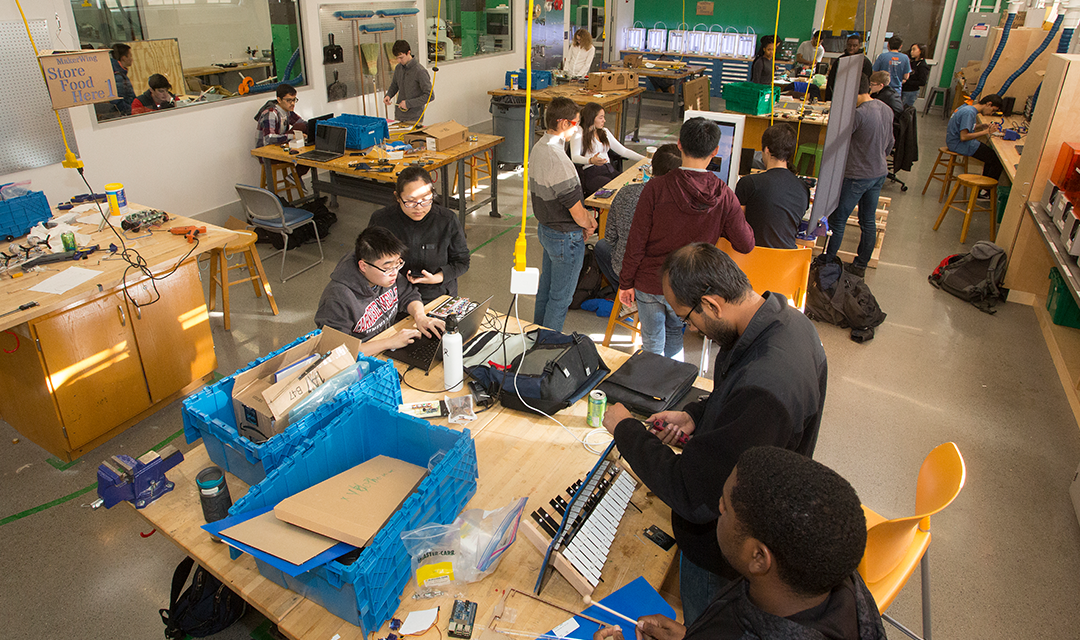 These spaces support learning and doing in a way that redefines both traditional schooling and traditional manufacturing. Smart tools, rapid prototyping, digital fabrication, and computational technology combine with the global reach of the internet to share ideas, solutions to problems, and best of all, the actual designs of things you can make yourself.
Launch pads
These spaces are launch pads for a future where people of all ages can be agents of change rather than objects of change. Let's look at each:
Hackerspace
"Hacking" is both the action and belief that systems should be open to all people to change and redistribute for the greater good and often done for fun and amazement. It's unfortunately recently gained the connotation of illegal and invasive computer activity, which was not part of the original meaning.
Hackerspaces are more prevalent in Europe than North America. A hackerspace is typically communally operated, but there are many models in use.
Makerspace
Since MAKE magazine debuted in 2005, the word "making" has been adopted as a softer, safer alternative to hacking. This is especially true in K-12 schools, libraries, museums, and youth centers where the subversive aspect of "hacking" might be seen as negative or even criminal.
Fablab
Short for "fabrication lab," fablab is a generic term, a nod to Fab Labs (see next) without formally joining the network. Even though the "fab" refers to digital fabrication, the activities in fablabs aren't restricted to 3D printing and laser cutting. They run the gamut of physical and digital construction, using tools, crafts, and modern technology.
Fab Lab: The non-generic use of the term refers to spaces and organizations that participate in a network run by the Fab Foundation led by Neil Gershenfeld and Sherry Lassiter of the MIT Center for Bits and Atoms. Neil Gershenfeld is the author of the 2005 book Fab: The Coming Revolution on Your Desktop–from Personal Computers to Personal Fabrication that predicted much of the impact that personal fabrication tools would have on the world.
As of July 2019, the Fab Lab network includes over 1,800 Fab Labs worldwide. All Fab Labs have a common charter and specific requirements for space and tools including digital fabrication tools, milling machines, cutters, CNC machines, etc.
Every Fab Lab is required to have free and open access to the public and participate in the network.

FabLearn Labs: Formerly known as Fablab@school, FabLearn is run out of the Transformative Learning Technologies Lab (TLTL), a research group led by Paulo Blikstein within Columbia University's Teacher's College.
These K-12 school-based labs, developed in collaboration with university partners internationally, put digital fabrication and other cutting-edge technology for design and construction into the hands of middle and high school students. The goal of FabLearn Labs is similar to the Fab Lab network, but with a focus on the special needs and practices that support K-12 education.
Tool sharing cooperatives, clubs and community workshops: The are an infinite variety of non-profit and commercial organizations offering community tool sharing, classes, or incubation space for new business ideas. They usually offer fee-based membership packages, but even commercial spaces may offer some free access in the spirit of serving the local community. These spaces are prime candidates for school partnerships, offering expertise, internship opportunities for students, or access to expensive equipment that might be out of reach of your budget.

School: Don't forget that there is a long tradition of hands-on learning spaces in schools variously called labs, studios, shops, libraries, and even classrooms.
It doesn't have to be a new space with a new name. Libraries don't have to change their name to be a place where hands-on activities are as important as the books on the shelves.
While a refresh is always good, a school makerspace should not mean throwing away books or closing the auto shop. There is incredible potential to be found in integrating these activities—and integrating the segregated populations they tend to serve.
No matter what you call it, embracing the concept of a modern technology update to beloved hands-on activities and discovery centers means that a new generation can have hands-on, minds-on experiences that empower and educate. It reflects the reality that people learn in unique and personal ways. There is no reason that every learning space, including the name, should not be unique and personal as well!
What's Right For Your Company and Our Community?
Finding the space that works best for you and our teams depends a lot on what stage your company and our community finds itself in, and what resources are most vital for growth. In fact, many companies will work in all three types of spaces as they scale and many communities will have access to all spaces nearby.
Whatever the name, all of these innovation hubs play a crucial role in the development of companies, as well as the broader ecosystem, as entrepreneurs turn their big ideas into real, innovative solutions and communities thrive!